Sailboat Cruises and Yoga
The most important thing on a sailboat is to live in the present moment, in harmony with Nature. Is this the right route to sail? Should we deviate from it? Has the wind changed? Are there rocky waves ahead? It's good to plan ahead and to have a route in mind but it's also important to be flexible to the present situation. Sailing helps develop and deepen this ability to adapt to the present moment.
Through yoga, your body subconsciously trains its inner and outer balance. By focusing on your body movement (Asana), on your breathing and also through meditation techniques, you brings your attention to the present moment, obtaining strength and clarity, to redefine your life.
This sailboat cruise in the Archipelago of La Maddalena combine harmoniously yoga and sailing.
The magic voyage begins and ends in Cannigione and sets sail towards the astonishing islands of the Archipelago of La Maddalena.
This cruise is for those who want to experience yoga and sailing together to energize themselves and come into direct contact with the sea. You sail, you do yoga and you relax on a comfortable and spacious boat with kitchen and double cabins with private bathrooms. In this fairy tale setting we reach the most enchanting beaches and bays of the Archipelago.
The yoga-sail tour is an active tour: on board everyone helps with the cleaning, cooking and supporting the skipper with sailing.
It's possible to learn the basics of sailing: the skipper will teach how to sail a boat to guests that are interested.
There are two yoga lessons every day: one in the morning and one in the evening, from dynamic and flexible positions to static and meditative ones. Through various breathing and perception techniques, you will attain perfect harmony with nature and sea.
Experience with sailing or yoga is not required and the level of the lessons is adapted to all the guests' experiences.
Yoga mats are on board.  Yoga will take place on protected and evocative beaches while some breathing techniques and meditation sessions will take place on board. The duration of the yoga sessions will be adapted to navigating and mooring conditions.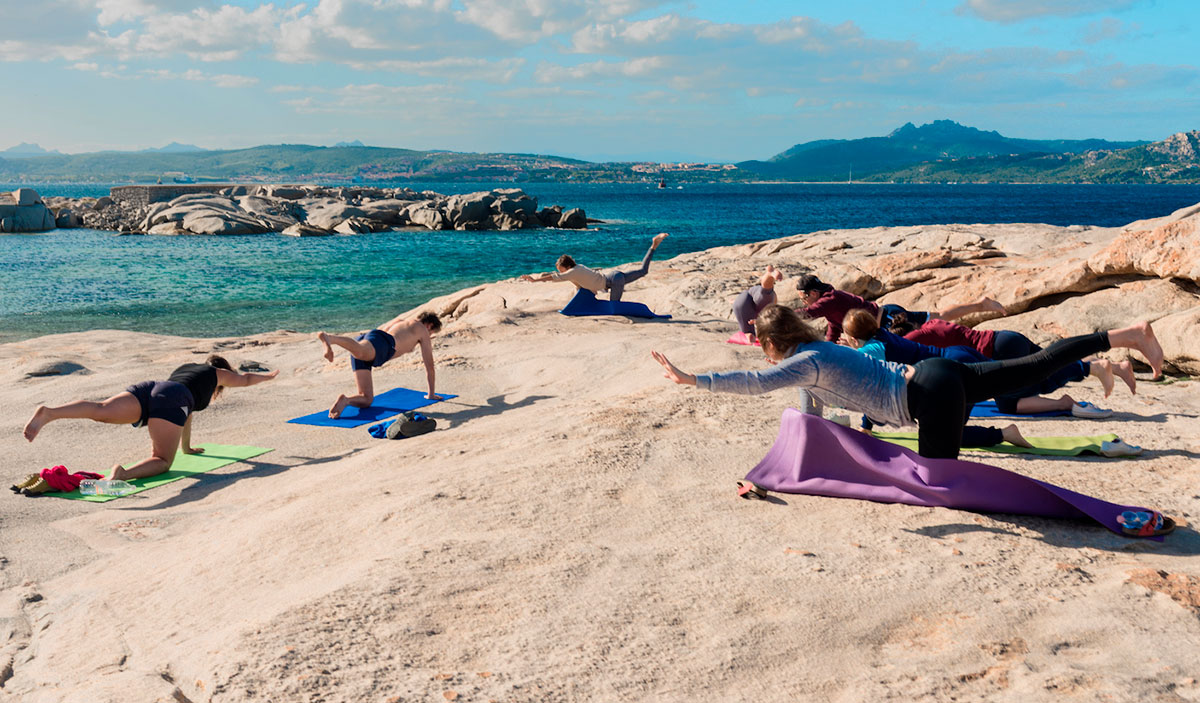 The Archipelago of La Maddalena
To sail in Sardinia in the Archipelago of La Maddalena is a unique opportunity. Very few places in the world offer such enchanting areas.  The Archipelago of La Maddalena consists of seven main islands and other small ones to form one of the 23 national parks of Italy.  It is located in the opening of Bonifacio, a few miles from Sardinia and Corsica.  The islands of the Archipelago can all be easily reached by sailing through the crystal waters that surround them thanks to the constant winds.
The Yoga-Sail cruise combines holidays and sailing by mooring in quite and solitary bays, with a balanced vegetarian diet, a qualified skipper and yoga instructor.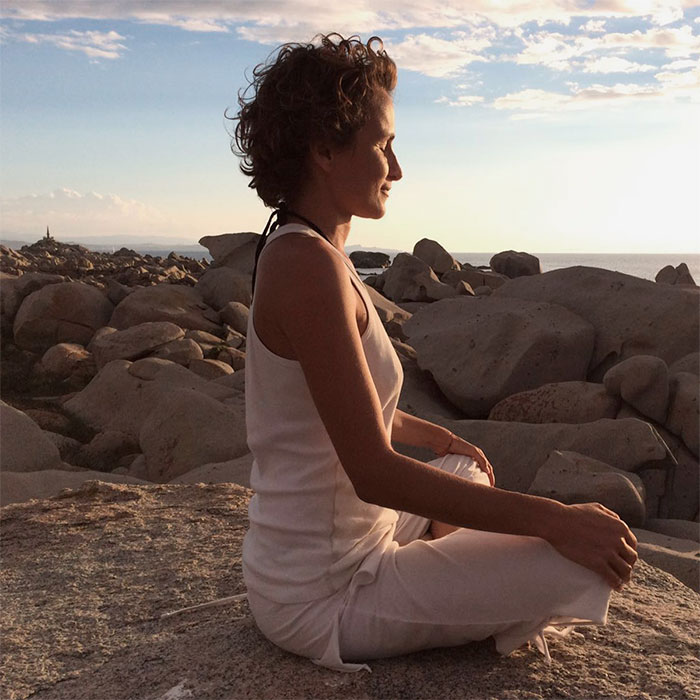 Alessandra has been doing yoga since 2009, after having mastered Sivananda Hatha Yoga and buddhist meditation in Laos. In 2012, she lived in Germany for 6 months in an ashram which practices Vidya and V yoga, and officially became a yoga instructor. In the summer of 2013 she worked as a yoga instructor in Sardinia. In the winter of 2013-14 she lived in India for several months, combining her knowledge of Vidya yoga with Iyengar yoga which is a combination of meditation and Ayurvedic massage.  Alessandra has a degree in Environmental Science and she follows drama lessons in her free time.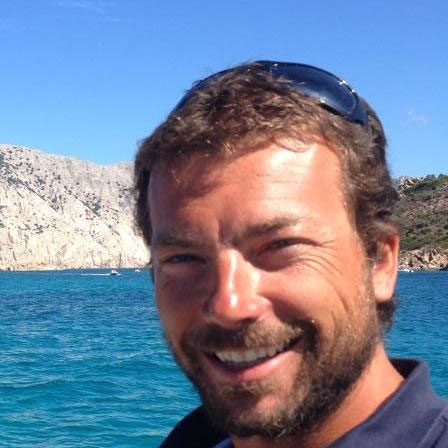 Francesco, nicknamed Ghego, became a professional sailing instructor in 1994 in Sardinia. He has sailed different routes of the Mediterranean Sea with several boats. In 1996 he leaved for 2 years, doing his first Atlantic crossing and then sailing in the waters of the Caribbean, Venezuela and the USA. After that he sailed around the world on a Mauric 64. In the years later he boarded yachts between 72 and 110 feet which brought him to sail the Mediterranean and Atlantic waters once again. In Sardinia he founded a nautical assistance centre and then he created Altamarea, a company that offers nautical services and charter trips in which he puts all of his expertise.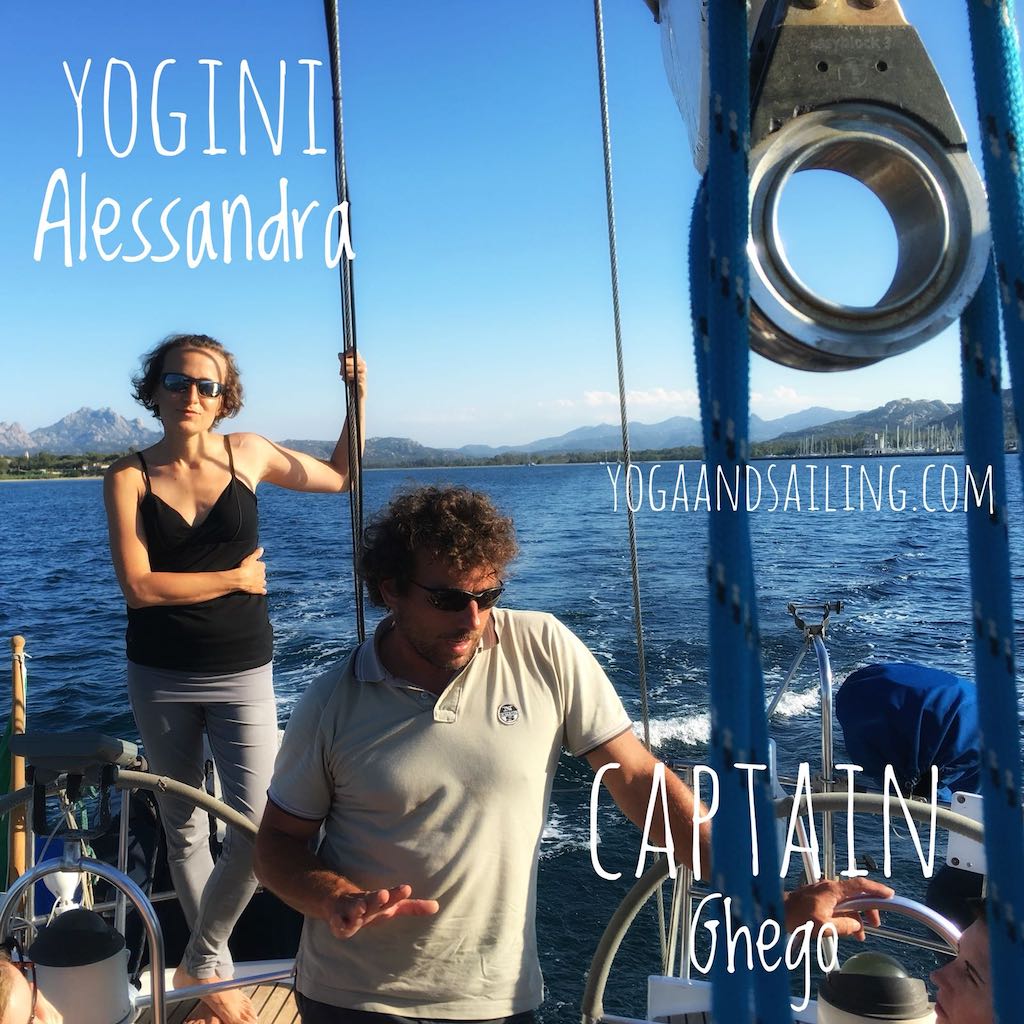 Information & Booking